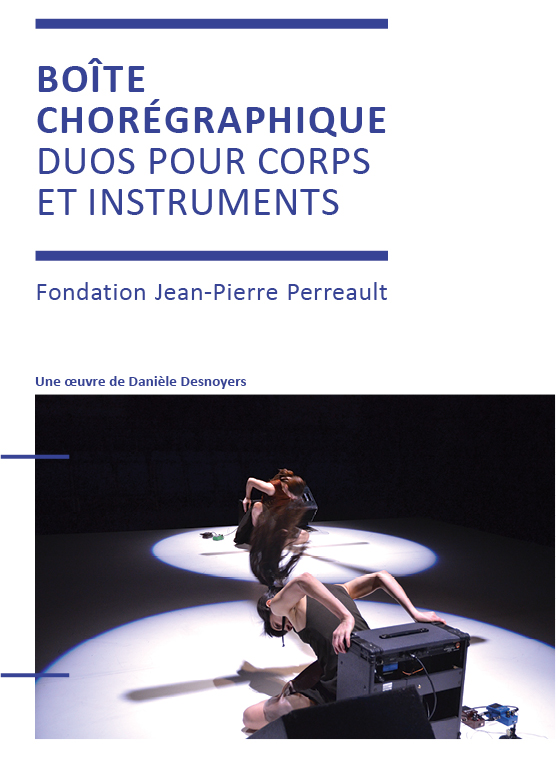 Choreographic Toolkits
Duos pour corps et instruments
Published on :

November 21, 2018
In 2003, the choreographer Danièle Desnoyers was invited to create a work in residence at the Musée d'art contemporain de Montréal. The resulting Duos pour corps et instruments was performed at the time by three of Montreal's most renowned dancers: Sophie Corriveau, AnneBruce Falconer and Siôned Watkins.
Ten years later, to celebrate 25 years of creation within her company, Le Carré des Lombes, Danièle Desnoyers invited three exceptional performers—Karina Champoux, Clara Furey and Anne Thériault—to work with her on a [re]creation of this work, which had toured on three continents and had earned its creator widespread acclaim.
Duos pour corps et instruments is based on the idea of encounters, notably that of the choreographer with sound designer Nancy Tobin, with whom she explored novel and playful ways of exploring the musicality of the body.
The result is an instinctive, visceral dialogue between movement and sound based on low-tech equipment, speakers that are occasionally carried by the dancers, and interference as an intense, raw and fascinating soundtrack. Duos pour corps et instruments is a beautiful, poetic work in which every part of the body seeks to erase the distance between dancer and spectator, between seeing and experiencing.
Duos pour corps et instruments Choreographic Toolkit, 2014
Choreography by Danièle Desnoyers, 2003
Toolkit based on the original idea of Ginelle Chagnon